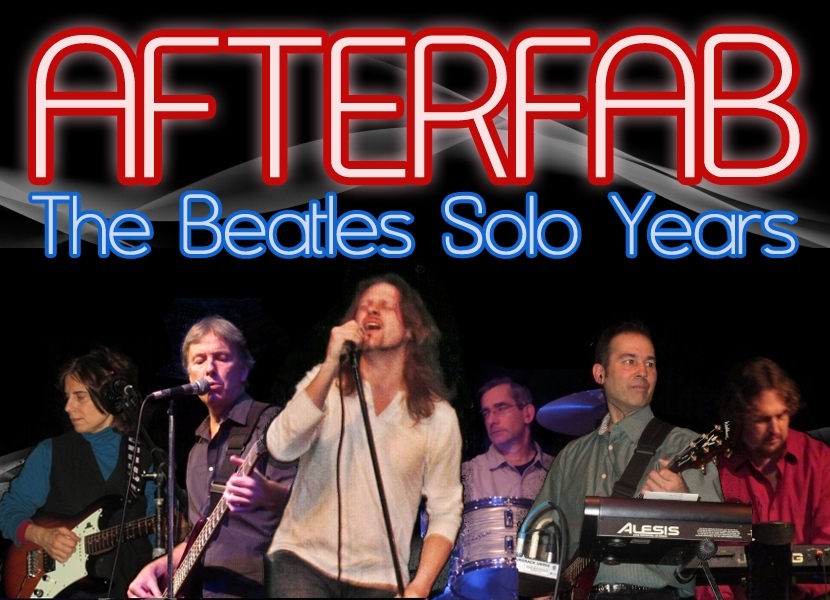 AfterFab, America's only band dedicated exclusively to the solo careers of all four BEATLES (1969-present) Friday, November 20, 2015 at 7:30pm, The Regent Theatre, Arlington, MA.
AfterFab is America's only tribute to the solo years of all four Beatles – and their unique concept has fans buzzing. The genius of The Beatles didn't stop with "Abbey Road," and AfterFab brings the brilliant solo careers of Lennon, McCartney, Harrison, and Starr to life with high energy and high fidelity to the original recordings. Over 70 hit singles and numerous iconic tracks compose one of the best-loved classic-rock canons ever, from "Band on the Run" and "It Don't Come Easy" to "Imagine," "What Is Life" and dozens more.
AfterFab has attracted praise from noted Beatles experts and authors such as Robert Rodriguez and Ricardo Pugialli. "They did the solo stuff and *rocked* it!" declared promoter Charles Rosenay following AfterFab's 2014 performance at his Danbury Fields Forever Fab Four Music Festival. Beatles radio show host Ken Michaels remarked, "Passion. You could see it in their faces. They've really studied the music. And the lead singer, he was outrageous!"
What can you expect from an AfterFab show? A high-energy, passionate tribute to the mega-classic canon of The Beatles' solo years, the only one in America, played with high fidelity to the original studio recordings. Beatles fans are absolutely everywhere and this unique concept and focus draws them in droves. It's something new and different for Beatles and classic-rock fans, and general audiences, thanks to 70 US Top-40 hits and 325 million records collectively sold by John, Paul, George, and Ringo, post-Beatles. The genius didn't stop with Abbey Road. This is the classic Beatles music that fans have been missing.
AfterFab is a formidable six-member powerhouse of long-experienced Beatles-expert musicians with a dynamic, entertaining front man and a talent for getting the music right. Not impersonators, but a music-first tribute along the lines of Brit Floyd, Get The Led Out, or The Fab Faux. Based in New England, the band began in 2012, designed from the start as a concert attraction for top music clubs, performing-arts spaces, theatres, and venues that desire to present something special for guests. Misson-driven to convey the brilliance of the solo Beatles' legacy, AfterFab adds extra dimensions of entertainment with back-stories of the songs, fascinating trivia, and video of images of solo Beatles LPs, singles, adverts, and quotations.
https://lastdanceproductions.com/wp-content/uploads/2015/08/dpk-AfterFabRN.jpg
600
830
Last Dance Productions
https://lastdanceproductions.com/wp-content/uploads/2018/04/LastDanceProductions-Logo-340x156.gif
Last Dance Productions
2015-09-12 10:29:27
2015-09-12 10:29:27
AfterFab The Beatles Solo Years