Mar
12
Thu
Carolyn Waters Cafe Concert

@ Somerville Armory
Mar 12 @ 7:30 pm – 9:30 pm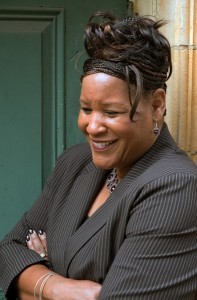 Carolyn Waters…Socially Conscious Soul…
"Carolyn's music is hypnotic, in a deeply soulful groove. You've heard it said that pure music seems to "flow" through a great singer? Go hear Carolyn to experience the real thing" – Pete and Maura Kennedy, The Kennedys.
Carolyn Waters is a performing singing/songwriter who fuses blues/roots/folk and other musical genres into a unique unforgettable blend of songs and sounds.
As a young girl growing up in Philadelphia, Carolyn Waters sang alone in her bedroom or out loud in the house when she was sure it was empty. It wasn't by choice, but as the result of thoughtless teasing she got from her family. Even in her church choir, a place where many singers first get noticed and make early names for themselves, she mouthed the words to avoid embarrassment. She, however, never lost her love and passion for music and spent endless hours moving up and down the radio dial, and listening to albums from her parent's collection.
A life changing event about a decade ago pushed Carolyn to take a voice lesson. This time she wasn't teased. She was taken notice of, supported, and given a start in folk music, which highlights included opening for Judy Collins, Tom Rush, and Kate Campbell among others.
Oh, and have we mentioned the blues?
"Carolyn Waters is a force of nature. Some people are simply created to sing and bless those who listen, Carolyn is one of those people". Rev. Robert Jones, Sr. Acclaimed Blues/Roots Musician/Blues Historian – September 2013
Carolyn can belt out barrelhouse and juke joint blues, or fuse them with a pinch of Gospel and roots. She has been featured in the Boston Blues Society's Ladies Sing the Blues Events where she shared the stage with the late great Shirley Lewis "Regal Queen of the Blues", Lydia Warren, Lisa Marie and the wonderful Diane Blue to name a few.
Recently Carolyn joined forces with Satoru Nakagawa, a Japanese-born blues singer, songwriter, guitarist and member of the Tokyo Tramps to record her first all blues ep. This powerful duo merged the Delta slide with soulful singing and produced a deep blues experience.
"Carolyn's voice is amazing, captivating, compelling—any superlative will fit. I don't believe I have heard such a rich, velvety, and yes—bluesy—voice locally in years" – Karen Nugent, Boston Blues Society – May 2010
Performing solo, and with various accompanying musicians ranging from an incredible single guitarist to fronting her new dynamic Carolyn Waters Band, she can and has performed at all sizes and types of venues including clubs, festivals, galas, coffeehouses, vigils, and intimate-private functions in New England, New York, Maryland and Virginia.
"Carolyn's songs are personal and have an emotional quality that moves the soul. Her easy natural style communicates immediately with your heart. Her performance is calm but powerful, putting you at ease and making you feel that all is right with the world. I look forward to hearing Carolyn perform her wonderful creations in the future. The best is yet to come". Charles Williams, Principal, Phillip Glass' Einstein On The Beach (2012-13 World Tour)
A benefit for Folk New England.