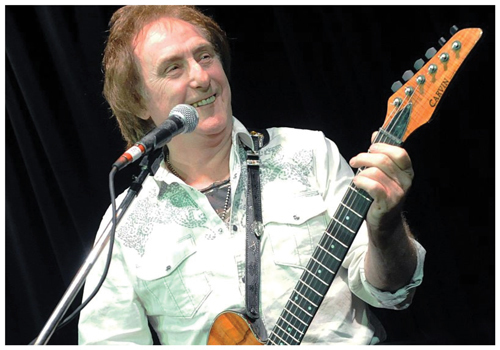 Denny Laine, In Concert at the Regent Theatre, Arlington MA, January 27th at 8pm

Tickets and more info Click Here
Denny Laine celebrates the 40th anniversary of the "Wings Over America" tour with a live on stage performance of their greatest album, "Band on the Run"—complete and unabridged! Within a year of its release, "Band On the Run" had sold over six-million copies worldwide, having spawned three U.S. Top Ten hits-"Helen Wheels", "Jet", and the title track. The singles alone occupied the U.S. chart for forty-five (45) weeks, while the album stayed on the charts for over two (2) years. "Band On The Run" was in the Top-30 of the Billboard 200 as recently as 2010, when a remastered version of the album was released.
This special evening celebrates the 40th anniversary of the Wings Over America tour. The sold out U.S. leg of the "Wings Over the World" tour helped carry the' "Silly Love Songs" single and "Wings at the Speed of Sound" album to number one on their respective charts. From the tour came the film "Rock Show" and the number one triple album set "Wings over America".
By far the most successful album involving any of the Beatles following their breakup, "Band on the Run" was created by Paul McCartney, Denny Laine and Linda McCartney. The other members of Wings quit the group just prior to the departure to Lagos, Nigeria to begin sessions for the album, but out of adversity came advantage.  With Paul McCartney on vocals, piano, drums, guitar, bass, and keys, and Denny Laine contributing vocals, keys, acoustic, electric and bass guitars, and Linda McCartney on keys and vocals, Band On the Run transcended the era to become an album whose deep cuts such as "Let Me Roll It",  "Picasso's Last Words", and "Mrs. Vanderbilt"  and "Bluebird" are better remembered-and played more often on classic rock radio-than most hits of the era.
Expect other Wings hits such as "Live and Let Die",  and "Time to Hide" as well as Denny's legendary lead vocal on the Moody Blues classic "Go Now" to round out this special anniversary show.
https://lastdanceproductions.com/wp-content/uploads/2017/01/Denny.L.jpg
350
500
Last Dance Productions
https://lastdanceproductions.com/wp-content/uploads/2018/04/LastDanceProductions-Logo-340x156.gif
Last Dance Productions
2017-01-15 15:27:25
2017-01-15 15:27:25
Denny Laine of Wings "Band On The Run" Live