Apr
29
Sat
Patty Larkin In Concert w/ Crys Matthews

@ Maxwell Auditorium
Apr 29 @ 7:30 pm – 10:30 pm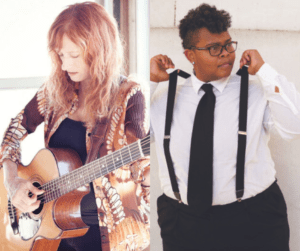 Patty Larkin in concert to benefit the Healing Garden at Mass General Waltham, MA.
PATTY LARKIN
is a visionary of sound and wonder, a real deal version of artistry made of equal parts guitar wizardry, vocals shot through with soul and inventive lyrics that ripple across the terrain of the heart. Described as riveting (Chicago Tribune), hypnotic (Entertainment Weekly), and a drop-dead brilliant performer (Performing Songwriter), Patty has captured audiences for over 30 years with an imagination, enchantment, and technical artistry that has redefined the boundaries of the guitar driven singer songwriter.
Already being hailed as the next Woody Guthrie, Crys Matthews is among the brightest stars of the new generation of social justice music-makers. A powerful lyricist whose songs of compassionate dissent reflect her lived experience as what she lightheartedly calls "the poster-child for intersectionality," Justin Hiltner of Bluegrass Situation called Matthews gift "a reminder of what beauty can occur when we bridge those divides."
May
13
Sat
Piano Men The Music of Elton and Billy

@ Regent Theatre
May 13 @ 8:00 pm – 10:30 pm
"Piano Men – The Music of Elton and Billy"  is a tribute featuring the amazing songs of Billy Joel and Elton John. This concert experience features Joe Boucher on piano and vocals, combined with a four-piece band and a stringed quartet section. With spectacular arrangements by Chris Eastburn, these songs have rarely been performed live in this way!
The music of "Piano Men" concentrates heavily on recordings by Elton and Billy during their 70s heyday when their many hit albums featured lush orchestrations. The concert works its way through #1 hits including Tiny Dancer, Scenes From an Italian Restaurant, Your Song, Goodbye Yellow Brick Road, Piano Man, and MANY more!
About Joe Boucher
Joe grew up in the quaint seaside village of Biddeford Maine on the New England coast. He is a singer and songwriter who, for eight years, fronted the power pop band Frotus Caper. They recorded and released four critically acclaimed albums while performing constantly. Throughout that time he worked regularly as a studio session musician, playing piano and arranging pop, rock and folk songs for many artists. For fifteen seasons Joe has acted as the Concert Manager for The Portland Symphony Orchestra.
What They Are Saying:
"This show masterfully blends the hits of Billy Joel and Elton John with the sophistication and energy of a full orchestra. You must not miss the opportunity to experience Piano Men!!!!"
Suzanne Nance, WFMT – Chicago
"Piano Men is a wonderful, surefire hit. Joe Boucher's first rate singing and playing of these classic and ever-popular songs is brilliant. Backed up by Chris Eastburn's masterful lush orchestrations, Billy and Elton's classic songs sounded better than ever. This show really connects and resonates with the audience."
Robert Lehmann, Conductor, North Shore Philharmonic Orchestra
For More Last Dance Productions events, click here.