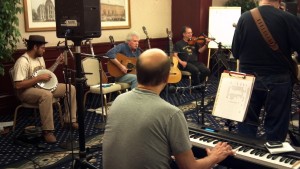 Tom Rush celebrated 50 years of performing by hosting a reunion in Boston's Symphony Hall December 28, 2012. The sold out show featured musicians that Tom has performed with over the past half century. The Boston Globe's James Reed previews the show here.
The day before, up the street from Symphony Hall, in a ballroom at the Colonnade Hotel, the rehearsal began. It lasted 6 hours but time flew by. These true professionals went through the playlist with ease.  There was harmony tweaking, additional instrumentation adjustments and vocal arrangements.
No one seem to mind the cameras and sound mics that seemed to float around the room. A film crew has been following Tom around the past year documenting his 50th year of performing.
The respect and true friendship these musicians have for each other was easy to see. Smiles were the order of the day. Often times jam sessions would break out between "takes" and the smiles turned into broad grins. One noted jam was between David Bromberg and Tom Rush's long time friend/guitarist Trevor Veitch. Congratulations were in order when Dom Flemons of the Carolina Chocolate Drops arrived. Their cd  "Leaving Eden" received a Grammy nomination for Best Folk Album!
Jonathan Edwards insisted on playing David Bromberg's vintage 1953 Fender guitar, (see below)
David Buskin and Robin Batteau played with heart. Dean Adrien and Eric Lilliequist.harmonies never sounded better. It was indeed a celebration. What a party. What a reunion. Congratulations Tom!
https://lastdanceproductions.com/wp-content/uploads/2013/01/band-300x1691.jpg
169
300
Last Dance Productions
https://lastdanceproductions.com/wp-content/uploads/2018/04/LastDanceProductions-Logo-340x156.gif
Last Dance Productions
2013-01-03 10:53:15
2013-01-12 14:55:51
Tom Rush Turns 50!