Apr
6
Sun
The Last Waltz Live

@ Regent Theater
Apr 6 @ 7:00 am – 10:00 am
The Last Waltz LIVE is a re-creation of the Band's classic 1978 concert film, The Last Waltz, featuring The Rev Tor Band and an all star cast of Boston-based musicians. The show includes renditions of all the hits by the Band featured in the film, such as "The Weight," "Up On Cripple Creek," and "The Night They Drove Old Dixie Down," as well as songs by Bob Dylan, Neil Young, Eric Clapton and many more.
For Tickets Click Here.
The line-up of artists includes the Rev Tor Band, Gary Backstrom of Jiggle the Handle, Vance Gilbert, Chris Fitz, Jim Infantino of Jim's Big Ego, Chris Nemitz and Charlie Carrazzo of Sun Jones, Regie Gibson, Adam Michael Rothberg, Emily Grogan, Todd Mack, Marina Evans, Vinny Serino of Boston Baked Blues, Nikki Howard, Les Sampou, Vykki Vox, and Richard Cambridge.
 A diverse array of local, regional, and national artists perform the songs of the film's original special guests, making the show a unique all-star experience showcasing the finest talent from the local music scene and beyond. All profits from the Last Waltz LIVE benefit Music in Common, a nonprofit organization whose mission is to strengthen, empower, and educate communities through the universal language of music.
The Last Waltz. On Thanksgiving Day, November 25, 1976, the legendary rock group THE BAND performed The Last Waltz, their "farewell concert appearance" at Winterland Ballroom in San Francisco CA. The concert saw The Band joined by more than a dozen all star special guests, many of whom were and are considered the living legends of their time. This historic event was captured by director Martin Scorsese and made into a concert film of the same name released in 1978. The performances captured on film that night were magical and the movie has achieved a cult classic status amongst many musicians today. It continues to be a major source of inspiration to all who see it.
Some of the profits from this concert benefit Music In Common, whose mission is to strengthen, empower, and educate communities through the universal language of music. The Last Waltz supplies the perfect soundtrack to bring musicians together and strengthen that common bond. The Last Waltz LIVE is a celebration of that spirit.
Produced by Last Dance Productions.
Apr
9
Thu
James Keelaghan, Archie Fisher and Jez Lowe

@ Somerville Armory
Apr 9 @ 8:00 pm – 10:30 pm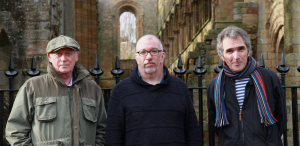 James Keelaghan, Archie Fisher and Jez Lowe
Three of the world's finest songwriters and most respected singers have decided to take their friendship on the road. Having come together for several years while on a cruise they found that their music has a great synergy.  James has toured separately with Archie and Jez and when they again all found themselves staying in the same house last Fall the idea for the tour was born. A benefit for FOLK New England.
Archie Fisher
An avid horseman and master guitarist, singer and songwriter Archie Fisher is Scotland's foremost Folk music troubadour. He is known in his homeland for a 27-year tenure as the host of BBC Radio Scotland's award-winning "Traveling Folk" show. Recognized for his contributions to Scottish folk music, he was inducted into the Scots Traditional Music Hall of Fame and in 2006 was awarded an MBE (Member of the British Empire), a prestigious honor nominated by his peers and bestowed by Queen Elizabeth.
James Keelaghan
Called Canada's finest singer-songwriter by one of the most respected and lauded music journalists of the last 50 years, James Keelaghan is an artist who has proven to be a man for all seasons. As the calendar pages have turned, for almost a quarter of a century now, this poet laureate of the folk and roots music world has gone about his work with a combination of passion, intent and intensity, and curiosity.
Fusing his insatiable appetite for finding the next unique storyline Keelaghan also forges his pieces with brilliantly defined craftsmanship and a monogrammed artistic vision, making him one of the most distinctive and readily identifiable voices of not only the Canadian scene, but as a member of the international singer-songwriter community.
Armed with a songbook that has enlightened and enthralled, and been embraced, by audiences around the world, Keelaghan's life as an artist is one that is a perpetual journey on so many levels.
Jez Lowe
Jez Lowe has built an enviable reputation as a songwriter and performer in the world of acoustic music, and as a recognised musical ambassador for his native North East England, with more than a dozen albums and countless live performances around the world over the last twenty years.
Among those who have recorded their own versions of Lowe's songs, are Fairport Convention, The Dubliners, The Tannahill Weavers, Cherish The Ladies, Gordon Bok, The Black Brothers, Liam Clancy and literally hundreds of others. Songs like BACK IN DURHAM GAOL, THE BERGEN, GREEK LIGHTNING and THESE COAL TOWN DAYS have generated scores of cover versions around the globe, and are now classics of their kind.
He has performed at some of the most prestigious venues in the world, both solo and with the Bad Pennies, including the main stages at Edmonton Festival (Canada), Tonder Festival (Denmark), The Kennedy Center and the Smithsonian (US), Port Fairy and Byron Bay Festivals (Australia) and at concerts and festivals in New Zealand, Hong Kong, Ireland, Holland, Germany and Spain.
Sep
30
Fri
The Last Waltz Live: A Special Benefit Concert for "Mended Little Hearts of Boston"

@ The Regent Theatre
Sep 30 @ 8:00 pm – 11:00 pm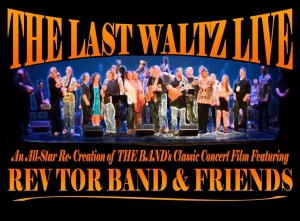 The Last Waltz LIVE is a re-creation of the Band's classic concert film featuring The Rev Tor Band as The Band (accompanied by a full horn section) and one dozen or more local, regional, and national artists as special guests.
Not a tribute show, but rather a powerful community event, each LWL concert features a local lineup of guest artists making it a unique, all-star experience.
Tickets here:
http://www.regenttheatre.com/details/the_last_waltz_live
or call (781) 646-4849
Most of the profits from the Last Waltz LIVE will be donated to Mended Little Hearts of Boston
Info on Mended Little Hearts of Boston Here:
http://boston.mendedlittlehearts.net/
Did you know that about 1 in 110 babies are born with a congenital heart defect each year?
Mended Little Hearts, a nonprofit organization, works nationally and in communities to empower children with congenital heart defects and their families through support, education and awareness.
Special guest artists for this performance will be announced soon.
"I lack the language to express the simply fantastic music, the awesome spirit, the camaraderie of the musicians, the MAGIC of last night's Last Waltz LIVE production!! Some things are felt in the heart and in the soul, and this evening was one of those moments for me! Thank you all so very much for a Night of Magic!!" – Helen S., Last Waltz LIVE audience member
http://www.regenttheatre.com/details/the_last_waltz_live
or call (781) 646-4849
Presented by Last Dance Productions