Sep
24
Sat
Gary Backstrom The Rhythm of the Saints: A Tribute to Paul Simon

@ The Courthouse Center for the Arts
Sep 24 @ 8:00 pm – 10:30 pm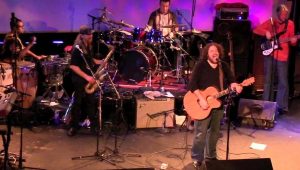 Gary Backstrom's The Rhythm of the Saints A Tribute To Paul Simon
Gary Backstrom, founder, and frontman of the legendary Boston-based Jiggle The Handle, brings you Rhythm Of The Saints – an all-star tribute to Paul Simon. This seven-piece band featuring members of Jiggle The Handle, Max Creek, and The Heavy Metal Horns flawlessly navigate the musical library of Paul Simon's solo carrier. The show features all the hits you would hope to hear, including "50 Ways To Leave Your Lover", "Still Crazy After All These Years," "Diamonds On The Soles Of Her Shoes," and so many more!
GARY BACKSTROM Singer/guitarist Gary Backstrom has been a staple of the northeast music scene for nearly a quarter-century. He is co-founder of the legendary Jiggle The Handle and has enjoyed a long post Jiggle solo career fronting The Gary Backstrom Band and many other projects. Gary has been called "One of the most underrated, fluid and melodic players in the North East
Paul Simon is undoubtedly one of the greatest singer/songwriters of all time. After his initial success with Simon and Garfunkel, he emerged in the '70s as a solo artist with such hits as "Me and Julio Down by the Schoolyard," "Still Crazy After All These Years," and "50 Ways To Lose Your Lover". Ever-evolving musically, Simon had great success in the '80s with his South African influenced "Graceland" album that featured the hits "You Can Call Me Al" and "Diamonds on the Soles of Her Shoes." The 1990s brought the Latin influenced "Rhythm of the Saints" and "Songs from The Capeman" that features doo-wop, rock 'n' roll, and Puerto Rican rhythms. Simon continues to record and perform today.
About the Courthouse Center for the Arts
The Courthouse Center for the Arts is the perfect venue for weddings, corporate events and parties, fundraising events, networking, social events, and more. We offer music from all genres, a traveling chorus to entertain you, summer day camps for local schools, senior day centers, and groups, which include an art or music class, and a tour of our historic building.
For more Last Dance Productions events, click here.