Apr
25
Sat
The Healing Garden Music Fest

@ French American Victory Club
Apr 25 @ 7:30 pm – 10:30 pm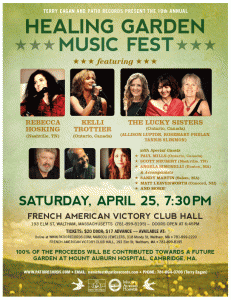 This year's event will feature of the best of voices and musicians from Canada and the US.
The Music
The Lucky Sisters (Allison Lupton, Rosemary Phelan, and Tannis Slimmon) have brought their individual talents (from their own solo careers) to comprise this exquisite and ethereal vocal harmony group. From Cambridge, Toronto, and Guelph, Ontario, they'll be making their first U.S. appearance.
We're tremendously lucky to have Paul Mills, who has produced many hundreds of masterful recordings, and is a folk icon in Canada, make the trip southwards for the night. Paul, who is producing The Lucky Sisters upcoming album, will accompany the gals as well as others through the night.
Healing Garden stalwart and fave Kelli Trottier will bring her singing, fiddling, and stepdancing self down from Kingston, Ontario for her fifth Waltham appearance.
Rebecca Hosking, hailing from Nashville, Tennessee, will be unveiling her latest CD at our special event. Scott Neubert, another Nashville resident (and Healing Garden staple) will accompany Rebeca and others in the show.
We're also delighted to present local artist Angela Simonneli for her first Healing Garden special Guest appearance. You may be familiar with Angela from her Red Line Radio rock group. It wouldn't be a HG fest without Mr. Versatility and Dependability, Matt Leavenworth to provide his accompaniment. We'll be enjoying the night of festive music at the French Club in Waltham.
Event Sponsor Patio Records
Patio Records of Waltham, MA is dedicated to the mission of building healing gardens at Hospital treatment centers. These gardens are designed to aid patients' well-being during their times of receiving cancer treatments. While working with local hospitals towards patio construction, a concurrent pursuit is the universalization of the concept of having such a facility be part of an overall treatment plan for those unfortunate to be so afflicted.
Jun
7
Fri
A Tribute to Todd Rundgren

@ Regent Theatre
Jun 7 @ 8:00 pm – 11:00 pm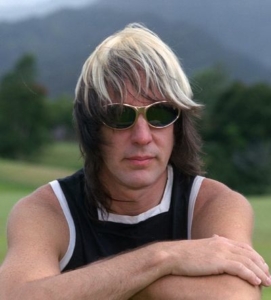 A Tribute to Todd Rundgren, Gary Backstrom's Road to Utopia, comes to the Regent Theatre,  7 Medford Street, Arlington, MA on Friday, June 7, at 8 pm. Tickets here.
Todd Rundgren
Considered by many to be the "Ultimate Rock Cult Hero" Todd Rundgren has maintained a legion of fans through four decades.  Todd's searing guitar work reached a nationwide audience in his role as lead guitarist for the blues-psychedelic band Nazz. He wrote and arranged almost all of the work that went into the three albums the group produced.
His first big solo success was in 1971 with "We Gotta Get You a Woman" and in 1973 from the double album "Something/Anything?"  He scored big on the charts with "I Saw the Light" and a revision of a Nazz song, "Hello, It's Me."
Rundgren has scored huge as a music producer, most notably on Meat Loaf's "Bat Out of Hell" opus. In the late 1970s and through the 1980s Todd formed the group Utopia, each member an accomplished musician and vocalist. He has also been called on by films and TV for his musical scores and sometimes tours with Ringo Starr as a member of his All-Star Band.
Gary Backstrom
Gary is the founder and frontman of the acclaimed Jam Band "Jiggle The Handle." The Gary Backstrom Band is a Boston-based Band that mixes Soul, R&B, Funk, Rock and Latin grooves blended into a unique sound. Their sound features exciting, unpredictable improvisation that can only be heard in the best live acts on the scene today. Gary is considered "one of the most underrated, fluid, and melodic players in the Northeast."
Some of the proceeds from this concert will go to
The project brings personalized iPods to people living with Alzheimer's and other forms of dementia, helping them reconnect with the world through the music they love.
This will be a quite the night for a great cause.
Sep
10
Tue
Country Singer Timmy Brown In Concert

@ Six String Grill and Stage
Sep 10 @ 7:00 pm – 10:00 pm
This will be a special Fundraiser for The Council for Children. The Council is a local all-volunteer non-profit with programs benefiting nearly 2000 local children every year.  The programs include Christmas is for Kids, a gift drive filling Christmas wishes of new toys and clothes to 1000 local children; Nicky O Foundation which gives scholarships to students interested in the arts; day care scholarships; 100 backpacks given to local park and rec departments each summer for children who need towels, sunscreen and water bottles; 75 back-to-school backpacks with supplies; a summer lunch food drive which collects 10,000 servings of food plus cash to help feed children on local playgrounds all summer who would otherwise go without a healthy meal.
Timmy Brown is a singer/songwriter/Nashville recording artist that grew up in  Norton, Massachusetts, and in October 2018, he moved to Nashville, Tennessee to pursue his dreams full time.  In 2018, Brown was voted New England Country Music's Local Male Artist of the Year for the third  consecutive year.  His infectious energy and talent have made him a local favorite, around the New England and Rhode Island area.  In the fall of 2017, he auditioned for "American Idol," for Season 1 of the re-boot on their new network ABC, where he finished in the top 60!
Timmy started playing the piano at the age of five and ever since then, music became his life.  Once he graduated from high school, he began playing solo shows at local events and restaurants.  Throughout that time, he had auditioned for television shows such as "The Voice," "America's Got Talent" and "American Idol."  It was at his third audition when he was selected to be on Season 14 of American Idol. Shortly after his audition, he was approached by members of a local country band Black Diamond and was asked to become the lead singer.  Since then Black Diamond has now changed to the Timmy Brown Band. His love of music is most evident when on that stage performing. Timmy's natural ability to connect with the audience and draw them in with his enthusiasm has earned him a loyal fan base.